Club
Finals Day
Sun, 12 Sep 2021 00:00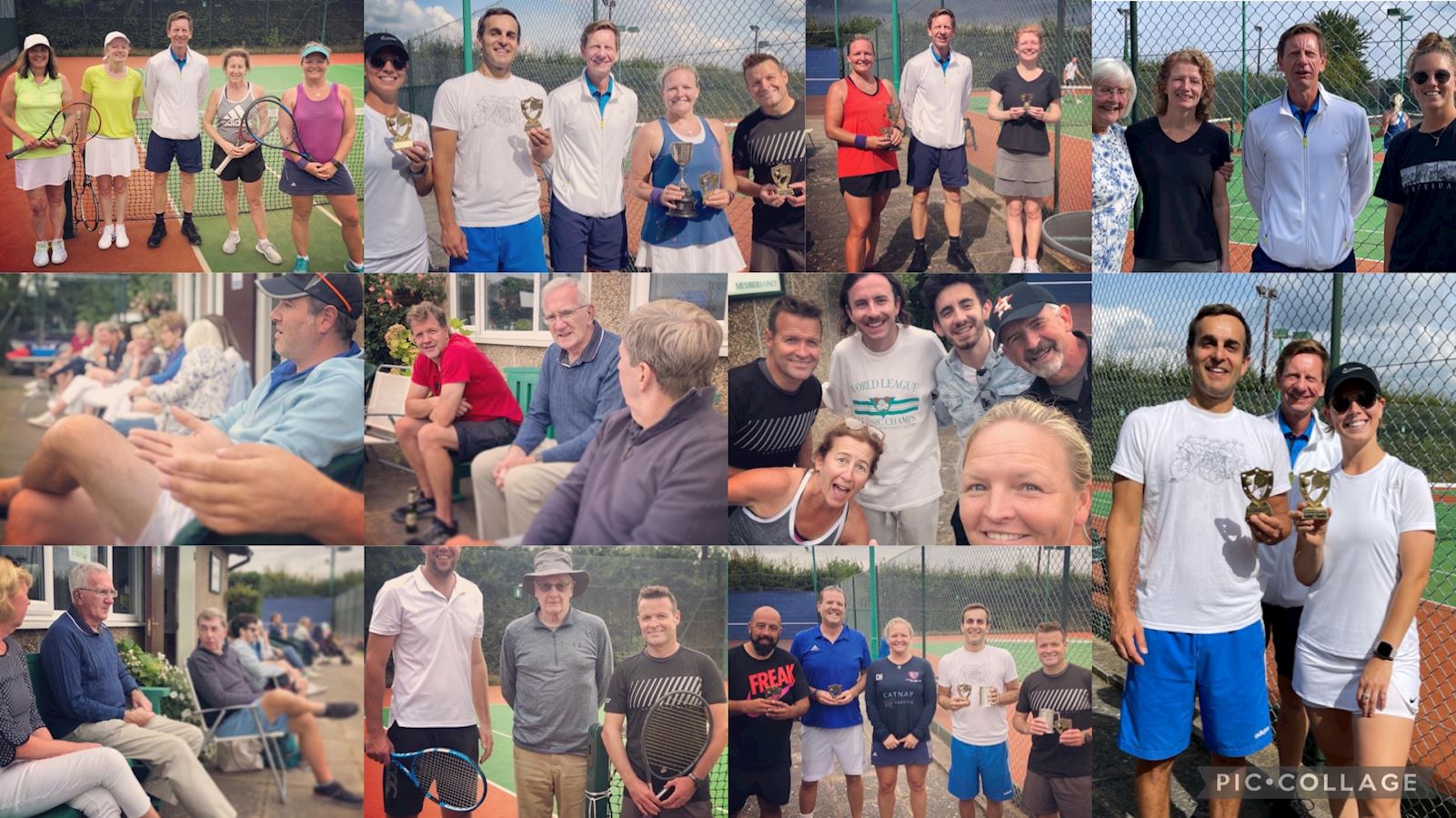 Match Report written by Cathy Hollies for Finals Day / Sunday 12 September 2021
"It felt so wonderful to hold our first Finals Day since 2019 and the weather gods were definitely on our side yet again!
Inspired by Emma Raducanu's incredible performance the night before, play kicked off with the Mixed Doubles; Neil Crosbie and I defending our title against first-time finalists, Jonty Manuja and Laura Skinner. I won't lie, there were a lot of nerves, but despite the shaky start and the pepperering of double-faults throughout, it was a hard-fought match with some cracking rallies. In the end, the newly polished trophy was returned to its former keepers with a 6-3, 6-2 scoreline and Laura ran off to play a football match! Ah, to be twenty-something again!
A quick outfit change and I returned to court to play our Ladies Captain, Elizabeth Harrison, in the first Ladies Singles Final in some years. (Come on ladies, let's see you out there next year!!) Elizabeth secured the first notch on the scoreboard, putting me on the back foot with some great attacking play. She had me run ragged within minutes and I had to summon every ounce of my reserve energy... The match finished 6-2, 6-2 in my favour but hats off to Elizabeth because it felt more like 7-5, 7-5! Great fun though. And thanks to Elizabeth's family for their ball-boy services!
The Men's Singles followed, with Men's Captain, Carl Jackson, taking on Neil Crosbie. The players' contrasting styles made it such a captivating match to watch and, for a long time, the first set looked like it could have gone either way. There were some stunning rallies, keeping the crowd on the edge of their seats. However, Carl eventually got the upper hand with a final score of 6-3, 6-1.
Next up was the Ladies' Doubles. Elizabeth and I reprised our roles as nemeses (with another outfit change thrown in for good measure), accompanied by Jennifer 'the loud one' Wolf on my side of the net and Pauline 'loves a lob' Butcher on t'other. I can't speak for the spectators on this one, but it was a most enjoyable match to play and it certainly kept us players entertained on court. Jennifer secured the win for our side with a perfect passing shot down the trams. Scores on the doors; 6-2, 6-2. Special thanks to Jennifer's brownies and Neil's Voltarol for getting me through that one! And the prize for best outfit most definitely went to Pauline and Elizabeth for their matching ensembles.
Last, but by no means least, Jonty and Neil returned to court (this time on the same side) to face Ed Fitch and Keith Gilbert in the Men's Doubles. There was a plethora of magical net play from both ends, some huge shots, loads of smashing serves and no shortage of engaging play to keep the crowd going. Jonty's daughters had requested he bring home a trophy and he didn't disappoint. Our final match of the day ended on 6-1 ,6-1.
On behalf of the whole committee, I'd like to thank everyone who put in time and effort to make the day such a successful and enjoyable occasion:
Elizabeth for organising the day and the overall competition; Gill and Cormac for making sure we had a fine spread for players and spectators alike, and all those who cooked/baked/bought lunch items; 'Coach Phil', Mark Fraser and Oliver Corrigan for their umpiring duties and keeping the players in check; the spectators for creating such a great atmosphere and, of course, the players! Without you there would be no finals day, so thank you all for the time and effort you've put in over the summer to get matches played. I look forward to seeing even more new faces take part in next year's competition, where the junior contest will be back with a bang!"
Cathy Hollies | Club Chair